Every therapist at Resolute Physical Medicine and Rehabilitation is committed to making an impact on the patients they serve.
Meet Maria Navarro – Employee of the Year at a long-term acute care hospital with a Resolute-managed rehabilitation unit in Conroe, Texas! For the last four years, Maria has served patients with kindness and empathy in her role as a rehab technician.
Maria believes teamwork is a key measure of success at Resolute. Prior to joining the team, Maria volunteered with the department. During this time, Maria discovered what is possible when everyone works together to restore a patient's functional ability to the highest possible level.
Maria leads the restorative program and works with her colleagues to observe and respond to the ever-changing patient needs. The coworkers who nominated Maria shared, "Maria is the true backbone of our Resolute team. In addition to her own work, Maria ensures our department runs efficiently with a focus on stellar care."
When she's not working, Maria is active in the soccer community and loves spending time with her two-year-old daughter.
"At Resolute, we work as a team to restore our patients physically, psychologically, and emotionally through rehabilitation. I feel so blessed to have a great work family."
– Maria Navarro
Our patients are at the core of who we are.
After being hospitalized for months due to respiratory failure from an autoimmune disease, Ms. Gutierrez transitioned to a long-term acute care hospital with a Resolute-managed rehab unit in Conroe, Texas. When Ms. Gutierrez arrived, she relied on high-flow oxygen to help her breathe. Ms. Gutierrez's muscles had become so weak that she wasn't able to stand. Every day, Ms.Gutierrez challenged herself to get better. She worked with the respiratory therapists to improve her oxygen levels and followed an aggressive rehabilitation plan. One of Ms. Gutierrez's sources of inspiration came from The Mandalorian, a Disney+ show. She brought her Grogu plush toy to many of her rehabilitation sessions and quickly bonded with our Director of Rehabilitation, Darin, over their love for Star Wars. This growing bond with our Resolute team motivated Ms. Gutierrez to keep fighting! After one month of intensive rehabilitation, Ms. Gutierrez was able to walk over 100 feet with a rolling walker and breathe on her own! She discharged to an inpatient rehabilitation facility to continue her recovery! Congratulations, Ms. Gutierrez!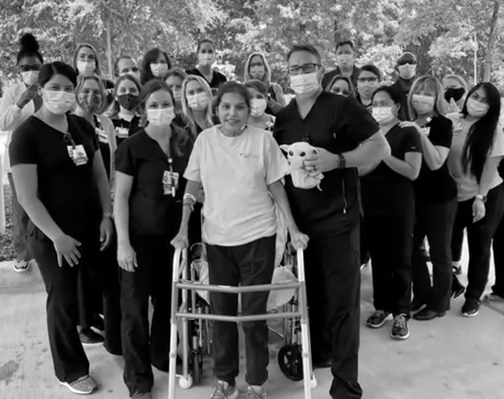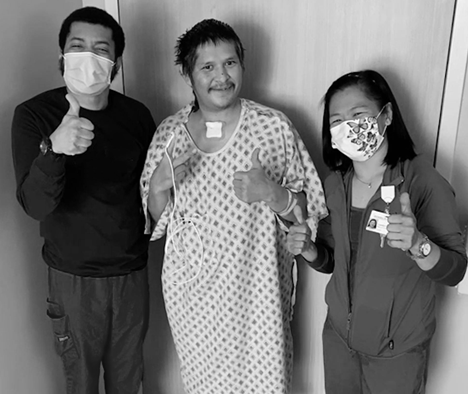 Mr. Yazzie transferred to a long-term acute care hospital with a Resolute-managed rehabilitation unit in Tucson, Arizona to recover from COVID-19, pneumonia, and respiratory failure. Upon evaluation, Mr. Yazzie had difficulty communicating, needed oxygen to help him breathe, and was unable to walk due to weakness in his legs. At the beginning of Mr. Yazzie's recovery, in addition to his physical weakness, Mr. Yazzie utilized a Passy Muir® Valve to help him communicate. In one week, Mr. Yazzie's tracheostomy tube was removed! Alongside this progress, our rehabilitation team worked with Mr. Yazzie to improve his mobility. Within a few days, Mr. Yazzie was able to walk without any assistance! In two weeks, Mr. Yazzie was breathing independently! We're so thankful to help Mr. Yazzie return home to his family!
After spending time in a short-term acute care hospital, Mr. Ney was admitted to a long-term acute care hospital with a Resolute-managed rehab unit in Lake Charles, Louisiana to receive continued care for COVID-19 complications. At first, Mr. Ney was on a ventilator and needed assistance from our Resolute team for all mobility and self-care needs. Although the road was challenging, Mr. Ney was determined to return home to his family and friends. This commitment to his family inspired Mr. Ney to work diligently with our Resolute team and the hospital's clinical staff on an aggressive treatment plan. After two weeks, Mr. Ney was able to stand on the edge of the bed with supervision! He was weaned from the ventilator and breathing on his own! In one month, he began to walk short distances with supervision and perform self-care activities with set-up assistance. In May, Mr. Ney discharged home with home health services to build on the progress he made! We're so honored to help Mr. Ney restore his independence.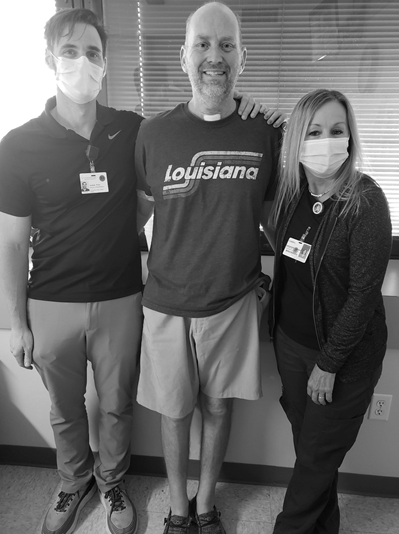 CLICK BELOW TO SEE OUR CURRENT JOB OPENINGS